Can You Transfer Kindle Books from One Account to Another?
Disclosure: This post may contain affiliate links. – meaning I may get a commission if you decide to purchase through my links, at no additional cost to you.
If you have created two different accounts for your Kindle books by mistake, just like me, you will want to consolidate your books under one account. I accidentally created different accounts for my computer and Kindle, and my books were divided. So, I contacted Amazon customer service, and here's what I found out.
You CANNOT transfer Kindle books from one Kindle account to another. You can download and transfer books from your Amazon library to a Kindle device via USB using a PC. But, if you are not using the same account on Kindle that was used for purchasing the books, you won't be able to open the books.
However, there are ways to mitigate this problem. In this article, I will share with you a few tips on what can be done if you want to read all the books that you purchase on a single Kindle device!
So, let's get started!
Why Can't You Transfer Kindle Books from One Account to Another?
Sharing and transferring "physical" books was easy if you were moving places or if you were just giving the book to a loved one! You'd think that technology would make things easier, but sometimes it can also complicate things!
You can't transfer Kindle books from one account to another as the books are protected using Digital Rights Management (DRM) technology. DRM protection allows controlling the use, modification, and distribution of copyrighted works. It is used to prevent theft or sharing of intellectual property.
While there are several different ways to transfer Kindle books in general, transferring Kindle books from one Kindle account to another infringes the licenses created by Amazon with the owner of the intellectual property (in this case; the Kindle books).
Intellectual property rights especially for digital licenses are surprisingly quite complicated! In fact, even the distribution rights and pricing of the same book vary from one country to another! That is one of the main reasons you may have noticed a difference in the pricing of a particular book for different countries.
On a side note: You can actually leverage the price difference for a book from one country to another by checking out the Amazon store for that country. I have written a detailed article on how to change Kindle account country and make use of this legal loophole. Make sure you check it out!
In short, there is no easy way to transfer Kindle books from one Amazon account to another. Even if Amazon allows you to transfer the book files, you simply won't be able to read the books when using another account!
What to do When You Can't Transfer Kindle Books to Another Account?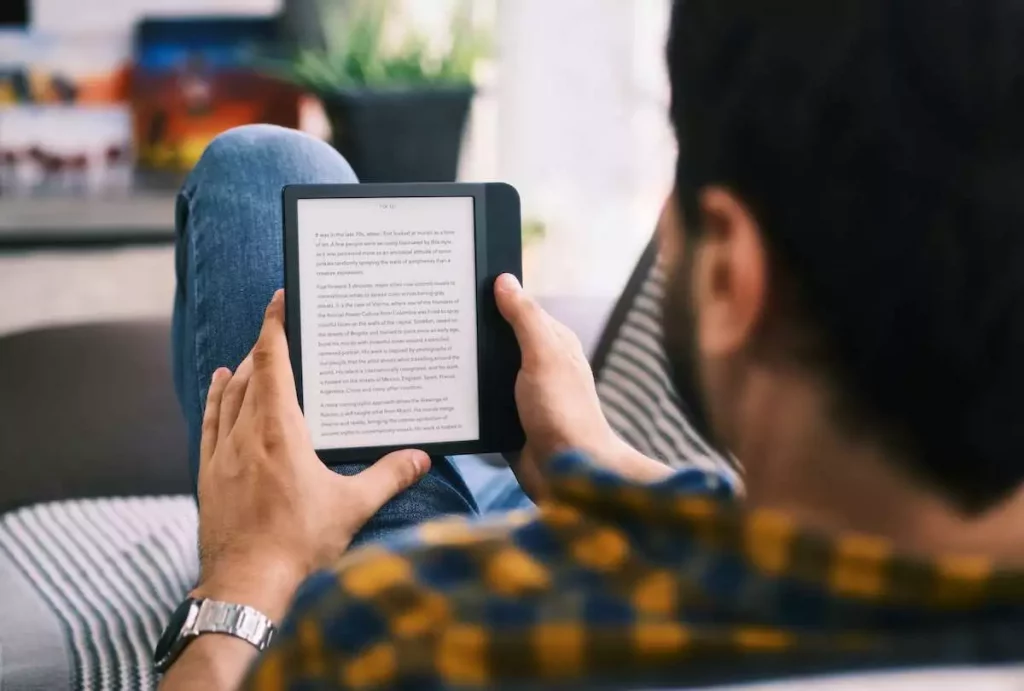 One thing that makes me wonder is why Amazon won't tell you that you won't be able to transfer books to another Amazon account right when you purchase your first book with them! It is quite annoying to find this out after you have amassed a huge library of Kindle books!
As annoying as it is, you are not left with too many choices at this point. But, there are a couple of things that you can do –
1. Consolidate Books on Your Kindle Device
Although you can't transfer books from a Kindle account to another, interestingly, if you have downloaded a book on your Kindle device, you can continue to access and read it even when you switch the Kindle account on your device!
So basically, you need to consolidate the books on the device instead of transferring them to a different account. Once you're done with this process, simply stop using one of the two Kindle accounts to purchase books in the future.
Here's what you need to do to make this work –
Identify which Kindle account, between the two, you wish to discontinue.
On your Kindle, log in to the Amazon account that you wish to discontinue.
If your Kindle is registered with the account that you wish to continue, then switch accounts on Kindle and log in to your other account.
Download all the books from your Amazon library to the device.
Turn off the airplane mode and make sure that you are able to access them offline.
Now, switch back to the original Kindle account or to the account you wish to retain (click on the link in step 3 to know how).
That's it! You will notice that you now have all the books from your other Amazon account on your Kindle device while you are logged in to your main Amazon account! If you are unable to register your Kindle device when switching accounts, check out my troubleshooting guide on how to fix issues when unable to register your Kindle.
Once everything is set up, remember to purchase books using the account that you have retained on your Kindle device!
The main drawback of this method is that you won't be able to sync the Kindle books that are present on your device (only the ones that were bought using another Kindle account) to the Kindle cloud.
So, you will not be able to read or leverage different ways to access your Kindle account. You will always have to carry your Kindle around (which isn't such a big deal).
The other drawback is that if your Kindle device is too old, this may not work for you as you may be limited by space on the device. Also, some of the older Kindles (generation 3 or lower) have been reported to have failed to log back in when you deregister an account on your Kindle device.
2. Use DRM Removal Tools
Another thing you can do is use any DRM protection removal tools to remove the DRM of the Kindle books. Then, convert them to another file format like a PDF file and transfer the books to a Kindle device registered to another account.
There are several free and paid DRM protection tools available on the internet. A simple Google search will yield several results.
One thing to remember is that decryption of DRM protection is not exactly considered legal. Therefore, use this method based on your own discretion. Personally, I wouldn't recommend you to use this method. But, if you are really desperate and there is no other way out, then use your own discretion.
3. Create an Amazon Household and Enable Family Sharing
Another way you could overcome the problem of transferring books from one Kindle account to another is by creating an Amazon Household and enabling the Kindle Family Library.
Doing so will allow you to add another Amazon account to a household. Usually, the other account is that of a spouse. However, if you don't expect to associate your Kindle account with your spouse's, this method will work great for you!
Once enabled, you can share, access, and read all the books on both the Kindle accounts! It is a completely free and legal way to access books on both the Kindle accounts at the same time!
Make sure you click on the links above to check out my detailed articles on how to enable this. Also, do check out my other article if you face any issues when sharing books in your Kindle Library.
Transfer Non-licensed Books to Another Account
Licensed books are DRM-restricted, making it hard for people to download them without conditions like timed-expiry, copy-paste termination, sharing limitations, etc.
However, there are a vast majority of books that are not licensed to be controlled this way. Once you have a copy, you have a copy even if you don't have reselling or redistribution permission. Obviously, you will need to look outside of Amazon to get these books.
To transfer non-licensed books from another account, you need to download the books to your computer hard disk, then convert the book to a universal format, and use a USB cable to copy it onto your new device. Given that cloud storage is on, the book will get synced to your new device's cloud.
When you buy a new Kindle or create a new Amazon account, you should hope that most books you've purchased are non-licensed so that you can transfer them when at your own will and share them with whoever you wish.
You can easily transfer non-DRM books to a Kindle device using the Send-to-Kindle email address or transfer such books from one Kindle device to another. So with such books, it doesn't matter what Kindle account you are using as you can easily move these types of books around.
That said, you must note that Amazon does not sync all books like it does Kindle books. This means you have to give Amazon the permission to store your offline books (including the non-licensed ones you just transferred) to your Kindle account.
To sync non-Amazon books to Kindle, you must first enable your Whispersync Device Synchronization by following the steps below.
Open your preferences page from your account on Amazon
Navigate to the content and devices section
Turn on Whispersync Device Synchronization.
Then you need to turn on personal document archiving, which will ensure that all files on your Kindle, even outside of the Kindle ebook library, end up getting synced to your Kindle cloud. For that, you will follow the steps below.
In your "content and devices" section, click on the "Preferences" tab on the top.
Scroll down and locate "personal document settings."
Enable personal document archiving in the personal document settings section.
Given that you have turned both these sync modes, any non-licensed and non-Kindle ebooks that you copy onto your Kindle device's hard disk via USB will get synced to your Kindle cloud.
Can You Change Kindle Account on Device Without Losing Books from Device?
Changing a Kindle account is an advisable option if you've received the device from a friend or simply want to use your most recent Amazon account.
Since Kindle prompts one to sign in or sign up when first turned on, some people end up making a new account, which is inconvenient when they want to consolidate their library.
You can change your Kindle account on your device without losing the books if the books are located on the device's hard disk and aren't associated with the Kindle cloud reader. Books on the Kindle cloud can be accessed only with a cloud's respective Kindle account.
Here is what that means for you when you deregister the device from one account and log in from another.
Ebooks you downloaded from web browsers like chrome and opera are safe.
Ebooks you transferred from USB, wifi transfers, and gDrive are safe.
Ebooks you purchased on an Amazon account previously associated with the Kindle are at risk of losing all the stats and sync but usually remain on the device for further access and reading.
Ebooks you access on kindle cloud reader will not be available if they're not in your new account's library.
Alternative Options to Accessing Kindle Books on Another Account
However, you're not destined to lose all your Kindle books if you log in with a new account. There are alternatives that help you navigate this migration by turning the books on your Kindle cloud into ones that are safe upon migration. As mentioned above, these books are mainly ones downloaded via the web (not through an Amazon store) or transferred via USB or other non-Amazon methods.
Option 1 – Sharing a Kindle Book that You Own
This method can be used to share a book you own with someone you know or to get the book from your online Amazon account to your Kindle's hard drive, so you don't lose it upon abandoning the account in which the book seems to be trapped.
Related Article – How to Share Kindle Books with Family Using the Kindle Family Sharing?
Either way, the process is the same, starting with getting the book out of the Amazon ecosystem.
Step 1 – Get the Ebook Out of the Amazon Ecosystem
For this, you will first download the book from your Kindle content library to your Kindle hard drive. Because books do not use a lot of internet bandwidth, most people rely on the cloud reader and do not actually download their books.
But if you're sharing your entire library with one of your newer accounts, you'll have to download all the books to your hard disk.
Then, you will need to connect the reader to your computer and navigate its hard disk to look for .azw files.
You can either open the documents folder and open the "my kindle" folder nested within it in order to copy all the available .azw and other kindle ebook files or you can simply search for the following extensions and copy the files that show up on your Kindle's disk.
Step 2 – Convert Kindle Ebooks to a Universally Readable Format
This step is optional in the context of sharing books from one Kindle to another. However, to be safe and off Amazon's prying eyes, it is still advisable to convert the books using a Kindle converter, so the books appear as if they came from a source other than the Kindle Store.
This step will prevent any potential penalties that Amazon might put on libraries that seem to have Kindle format books without a purchase trail showing the source.
Currently, there are no such penalties, and if you can get a Kindle format book from the Documents/My Kindle folder of one Kindle to another, the books will be readable.
Step 3 – Send the Book to a Different Account
Here, the mode of sending will vary depending on where the new account is primarily used.
If you want to transfer books to a new Kindle, then you have to connect the second Kindle while it is logged into the new Amazon account; and transfer the Kindle books to your computer and then onto the hard disk of your new Kindle.
If you scroll up and follow the personal document syncing instructions, these books will get added to your new Kindle account as personal documents. Alternatively, you might be planning to use the new account on the same Kindle.
For that, you have to simply deregister your Kindle device once the data has been copied to a computer, log in to the new account and copy the files (converted or otherwise) to your Kindle hard disk.
Again, turn on the personal document sync, and your books will be on the Kindle cloud for your new account.
Option 2 – Lending a Kindle Book to Another Account
If you feel overwhelmed reading the above because your intention wasn't to copy your entire library onto a new account, and you just wanted to send an interesting book to a sibling or a friend, you can legally lend most Kindle books.
To lend a kindle book, you should open your Amazon account and click the "Manage Your Content and Devices" button to view your library. Click the actions button next to an eligible title and click "Loan this title." Enter the recipient account email, and the book will be sent to them temporarily
About the Author
Akansha is a former business journalist and a seasoned communications professional. She is the founder of TheBookBuff, an avid storyteller, and a lifelong biblophile! Check out her profile page to know more about Akansha.