How to Find Your Kindle Serial Number? [The EASY Way!]
Disclosure: This post may contain affiliate links. – meaning I may get a commission if you decide to purchase through my links, at no additional cost to you.
Who wants to remember a long 16-digit sequence? I understand why most of my friends don't remember their Kindle model, let alone its serial number. But knowing the Serial Number can help you prove ownership, remotely register or deregister your Kindle, and even jailbreak it if you choose.
To find your Kindle Serial Number, you must tap device information in your Kindle reader's settings. Alternatively, you can look for the serial number on the purchase box or invoice. Finally, you can find the information in your account's linked device in the "Manage Content and Devices" area.
In this article, you will discover different ways to find your Kindle Serial Number, including via device, web browser, and smartphone. You will also find out what the advantages of knowing your serial number are and which model your specific Kindle identifier correlates with.
But first, let's start by understanding what is this Kindle serial number in the first place!
What is a Serial Number on a Kindle?
A Kindle Serial Number is a unique code assigned to identify your Kindle. It is never repeated across more than one device, making it a well-formatted unique identifier that comes in handy to prove ownership or stop a thief from using your Kindle device after stealing it.
There are several situations where a serial number of your Kindle device will come in handy. I will share most of the important scenarios later in the article.
But, at this point a time, I'd like to share a quick word of advice – note down the serial number and store it in a safe place as soon as you receive your Kindle! Just trust me on this, you'll thank me later!
If you've already bought a Kindle some time ago, and you now need to know the serial number, keep reading. I'll help you understand how to locate it.
How to Find Kindle Serial Number?
There are several methods for finding your Kindle serial number depending on whether the device is registered to an Amazon account or is fresh out of the box. Here are the most common and the easiest ways –
Method 1 – Find Kindle Serial Number Using PC?
Usually, the easiest way to locate a Kindle serial number is on the device itself. However, in case you don't have the device handy or if you have lost your Kindle device, you can easily find the reader's serial number via PC.
To find Kindle serial number using a computer, log in to your Amazon account. Navigate the "Content & Devices" section. Click on the "Devices" tab, and open the "Device Summary" by clicking on your Kindle device. Here, you will be able to see the serial number of your Kindle.
This process will only work if you have registered your Kindle device to your account. If you've bought the device using your Amazon account (as opposed to buying it from best buy or other stores), it will be automatically registered to your account by default.
If, however, you haven't bought the Kindle from Amazon and if you haven't turned on your Kindle, this won't work. Also, if you ever deregister your Kindle device, again, this method won't work.
So, make sure your Kindle is linked to your Amazon account before following the steps below.
Step 1 – Open the "Content & Devices" Section
Open a web browser on your computer and go to Amazon's website. Log in to your account.
Then, hover over your account name (don't click it) displayed next to the search bar on the top of the screen. From the dropdown that appears, click on the "Content & Devices" option.
Step 2 – Click on the "Devices" tab
Next, you will see the content library page by default. Simply click on the "Devices" on the top section (as shown in the image above).
You will notice that there are two options labeled as "Kindle" (especially if you also have Kindle installed on your phone, tablet, or computer).
Then, under the "Amazon devices" section, click on the "Kindle" option. This indicates the Kindle device as opposed to the Kindle app that may be installed on multiple devices.
You will be shown minimal details of the device. Simply click on the device name.
Step 3 – Copy the Serial Number from the "Device Summar" Page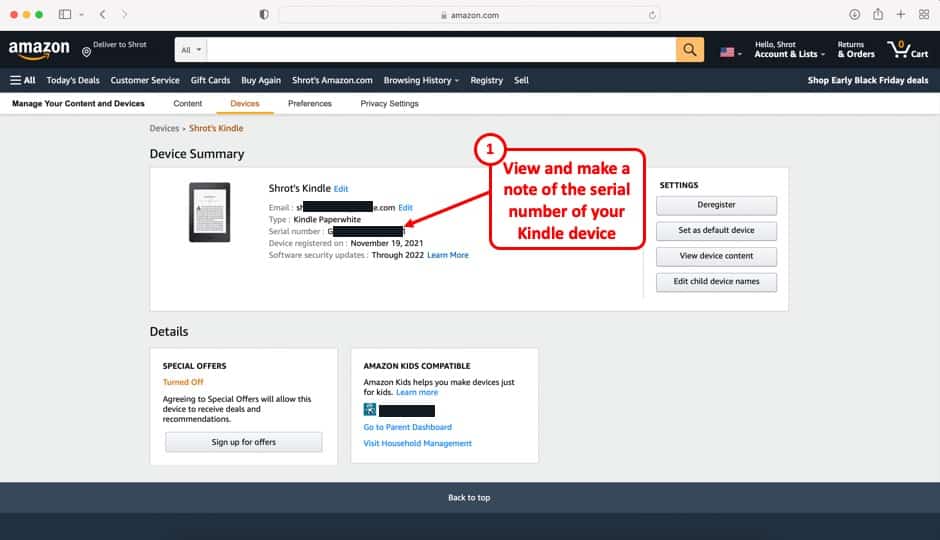 On the next page, you will be able to locate the serial number of your Kindle device under the "Device Summary" section.
Make a note of the serial number of your Kindle device and keep it safe and handy!
If your device has been misplaced and you have no hope of finding it again, please report the device as stolen and get Amazon customer service to blacklist it after you get the serial information. This will prevent your device from being registered to another Amazon account.
That way, you can make sure that your information is safe, no one can transact on your behalf. Plus, whoever receives it will never be able to use the device!
Method 2 – Find Kindle Serial Number on the Purchase Box/Invoice
If the above method seems daunting because you've just purchased your Kindle and can't even remember your Amazon login details, don't worry. It is easier to find your device's unique identifier via invoice.
Still, it is advisable to register your device simply because it is easier to locate and block it if it is on your Amazon account. But to get the serial number via invoice, follow these steps.
Look at your Kindle purchase box and try to find a 16-digit sequence starting with an alphabet and a 0. If you do not find the serial number proceed to the next step.

Read your printed invoice and look for a serial number starting with an alphabet with a 0 right after that and running 16 digits long. If you find the serial information here, the next step isn't necessary.

If purchased on amazon, go to your order history and check the order details of the Kindle purchase. Again, look for a serial number that is 16-digits-long and starts with an alphabet followed by a 0.

The serial number is almost always present here unless you bought the product from an unauthorized reseller.
Method 3 – Find Kindle Serial Number on Your Kindle
Some retailers do not make a note of Kindle serial numbers and therefore cannot include the unique device identifiers in their invoices. Purchase boxes don't always have serial numbers either. You can get the serial number from the Kindle itself, though it isn't etched onto the device.
If anything, the fact that you have to turn on and unlock a Kindle before accessing its serial number offers protection against theft and unauthorized attempts at device-blocking.
If you're the rightful owner of a Kindle and have access to its home screen, follow these steps to get your device's serial number.
Step 1 – Open the Notification Section
The first step is to simply open the notification section by dragging the arrow at the top of your Kindle screen downwards.
For some of the older Kindle devices, you may have to click on the "More Actions" button (represented by the 3 vertical dots) next to the cart and underneath the battery indicator icon.
Step 2 – Tap on the "Settings" Option
Once you open the notification center, simply click on the "All Settings" button in order to see all the settings of the device.
Step 3 – Tap on "Device Options"
In the settings menu, locate and tap on the "Device Options" button. This will open a new set of options.
Step 4 – Tap on the "Device Info" Options
Now, from the device options, simply click on the "Device Info" button. This will show a pop-up with the necessary information.
Step 5 – View the Kindle Serial Number
In the last step, you will be able to locate the serial number of your device from the pop-up that appears. Simply make a note of this serial number in some place safe for future reference.
How to Find Serial Number of Kindle Fire?
If you've been confused between swiping down to open settings or clicking the settings button from the top-right menu, the difference comes because of variation in Kindle models. Not all Kindle devices run the same operating system.
Kindle Fire stands out the most from other eReaders made by Amazon because it is more of a tablet. The process of getting a serial number from Kindle fire is almost the same, with very little variation.
Turn on your Kindle Fire tablet
Swipe down to open the quick menu
Tap the settings icon usually signified by a gear icon
On the options page, locate and tap "device options."
If the serial number pops up alongside device information, note it down.
If you cannot locate any sequence starting with an alphabet and followed by a 0, then look for the "Device details" option and tap it to open the device information pop-up.
How to Find Kindle Serial Number Using Mobile Phone?
While the quickest way to get your Amazon Kindle serial number is to use the device itself, it isn't always practical because most people bother to think about serial numbers when they've lost their device.
In such an instance, you should think about the closest device you have that's logged into the same Amazon account. If it's a mobile phone, follow these steps.
Open Amazon via mobile app or web browser and make sure you're logged into the same account as the one your Kindle is registered to.
Navigate to the account page. In the web browser, you'll click the account option on the top right corner, whereas, in the app, you'll click the sandwich menu (multiple horizontal parallel lines) and click account when the menu opens.
Scroll to "Manage Content and Devices" and locate your Kindle on the devices list.
Click the menu next to the listed Kindle reader to get details, including the serial number.
Since you will need to use a web browser even on your phone, the options are going to be similar to that of method 1 described above (for using a computer).
Why is a Kindle Serial Number Important?
If you've glanced at your Kindle device purchase box and noticed the serial sequence, you might have a feeling it will be important later on. You must trust this hunch because a Kindle Serial Number is important for seven main reasons.
1. For Registering Your Device
You can remotely register your Kindle to your Amazon account if you know your Kindle's serial number. This isn't a widely used option, though, as directly registering the device is easier, as explained in my post about how to register Kindle devices.
However, if you are facing issues doing so, check out my other article on what to do if you are unable to register your Kindle.
2. To Retrieve Your Lost or Stolen Device
This is by far the most important utility of serial numbers as they can be used to locate an Amazon Kindle. If your Kindle has been lost or stolen, the serial number of the device is crucial to have any possibilities of it being retrieved!
Knowing the serial number of your device allows you to remotely disable it. If you have the device registered, you can even blacklist it.
If you don't have it registered to your account, the situation will get a bit tricky but you'll need to get in touch with Amazon customer service, and guess the first thing they will want to know? The Kindle serial number.
3. To Identify the Kindle Model
Just like smartphones, Kindle models improve with each iteration. However, since many changes are internal, you cannot tell the eReaders apart by just looking at them.
If you've received the device as a gift, then the quickest way to find which generation of Kindle you have is to simply look at the serial number.
The following list covers the Kindle iterations followed by their respective serial number openers. Please use Ctrl+F or Cmd+F and type in the first three alphabets and letters in your Kindle serial number to get the exact model and generation of your device. Bookmark this page for future reference.
List of Kindle Model and Generation
| | | |
| --- | --- | --- |
| Kindle Serial Number Opener | Kindle Generation | Kindle Model |
| B001, B101 | Kindle 1st generation | Kindle 1 |
| B002 and B003 | Kindle 2nd generation | Kindle 2 |
| B004, B005, and B009 | Kindle 2nd generation | Kindle DX |
| B008, B006, and B0009 | Kindle 3rd generation | Kindle Keyboard |
| B011, B00F, and B010 | Kindle 4th generation | Kindle Touch |
| B00E, B023, 9023 | Kindle 4th generation | Kindle 4 |
| B012 | Kindle 5th generation | Kindle 5 |
| B024, B01B, B020, B01C, B01D, and B01F | Kindle 5th generation | Kindle Paperwhite |
| B0D4, 90D4, B05A, 905A, B017, 9017, B0D5, 90D5B0D6, 90D6, B0D7, 90D7, B0D8, 90D8, B0F2, 90F2, B060, 9060, B062, 9062, B05F, 905F, B061, and 9061 | Kindle 6th Generation | Kindle Paperwhite 2 |
| B0C6, 90C6, B0DD, and 90DD | Kindle 7th Generation | Kindle Basic |
| B013, 9013, B054, 9054, B053, 9053, B02A, B052, and 9052 | Kindle 7th Generation | Kindle Voyage |
| G090G1, G090KB, G090LK, G090G2, G090G4, G090G5, G090G6, G090G7, G090KC, G090KE, G090KF, and G090LL | Kindle 7th Generation | Kindle Paperwhite 3 |
| G0B0GC, G0B0GD, G0B0GR, G0B0GU, and G0B0GT | Kindle 8th Generation | Kindle Oasis |
| G000KA, and G000K9 | Kindle 8th Generation | Kindle Basic 2 |
| G000P8, G000SA, G000P1, G000S1, and G000S2 | Kindle 9th Generation | Oasis 2 |
| G000PP, G8S0PP, G00102, G0016T, G8S16T, G0016U, G0016V, G8S16V, G000T6, G8S0T6, G0016Q, G00103, G0016R, G0016S, G000T1, G000T2, and G000T3 | Kindle 10th Generation | Kindle Paperwhite 4 |
| G090WF, G090WH, and G0910L | Kindle 10th Generation | Kindle Basic 3 |
| G090VB | Kindle 10th Generation | Kindle Basic 3 Kids Edition |
| G000WL, G000WM, G000WP, G000WN, G000WQ, G0011L. | Kindle 10th Generation | Kindle Oasis 3 |
Source – Amazon
4. To Convert Kindle Books to Another ebook Format (or to Remove DRM)
Kindle serial numbers can be used in conjunction with computer software to convert the books on the device to a different format or the same format.
Same format conversion reproduces the file without the DRM restriction. Often, these programs will require your Kindle serial number in order to function.
5. To Downgrade Kindle Firmware
In case you've updated an app or the operating software of your mobile phone, you know that not everything that comes later is better than the previous iteration.
This applies more to Kindle devices than standard smartphones because each update seems to grant more DRM controls and library oversight to Amazon.
If you have a Kindle device's serial number, you can downgrade its firmware to a previous version with fewer features (plus fewer bugs and oversight). This is handy for those who like to copy and transfer their books without DRM restrictions.
6. To Jailbreak Locked Kindle Devices
Just like with certain Kindle book conversion programs, Kindle unlocking software also requires a Kindle device serial number. Kindle devices, whether unlocked or locked, can be jailbroken to be independent of any restrictions imposed on them by Amazon or a previous user.
This is done through the serial port and direct connection to your computer. Having a serial number for this process is mandatory.
Need I remind you that if you jailbreak your Kindle devices, your device will be void of any warranty.
7. For Amazon Customer Service Reference
If you have any problem with your Kindle device, reaching Amazon customer service becomes more fruitful when you have your Kindle serial number.
This information helps the customer service team learn about the Kindle generation and model while giving them unique device information they can use to make changes on their end.
These changes can include: blocking the device, unlocking the device, manually registering it on the back end, adding books to its library, approving file detection, approving firmware upgrades, and giving access to beta features before roll-out.
About the Author
Akansha is a former business journalist and a seasoned communications professional. She is the founder of TheBookBuff, an avid storyteller, and a lifelong biblophile! Check out her profile page to know more about Akansha.