Does Kindle Come With a Charger? [Here's What to Know!]
Disclosure: This post may contain affiliate links. – meaning I may get a commission if you decide to purchase through my links, at no additional cost to you.
So, you place an order for a new Kindle. The shipment arrives and you open the box with excitement. But, to your surprise, you do not find a charger for the Kindle inside the box!
At this point, you may wonder – is this normal? Does Kindle come without a charger?
Most Kindle devices do not come with a charger inside the box with the exception of Kindle Fire Tablets. While Kindle usually comes with just the USB charging cable, Kindle Fire Tablets come with both the charging cord as well as the charger.
But, what charger does a Kindle use? Do you need a special charger or can you use your phone charger to charge your Kindle? In this article, we'll cover these topics and more in further detail and answer some of the most relevant questions that you may be having at this point in time!
So, let's get started!
Does Kindle Come With a Charger?
As I mentioned earlier in the article, most Kindle devices are shipped out without a charger in the box!
If you buy a Kindle, Kindle Paperwhite, Kindle Paperwhite Signature Edition, Kindle Paperwhite Kids, or the Kindle Oasis, you will not receive a charger. However, a USB cable is provided with your device. You will need to buy the power adaptor independently from the Kindle device.
That said, some Kindle models are provided with a charger inside the box!
The table below illustrates the various Kindle models and whether or not a charger is provided with the device –
As you may notice from the above table, you will receive a charger when you purchase any variant of the Kindle Fire Tablet. However, you won't receive a charging head when you purchase a standard Kindle device!
Buy Kindle with the Essentials Bundle to Include a Charger
Not a lot of people are aware that Amazon also offers a Kindle essentials bundle that provides you with an option to include not just the Kindle device, but also a cover, and the charger out of the box!
So, if you are someone who doesn't want to go through the hassle of purchasing a charger separately after the fact, Kindle Essentials Bundle is the perfect option for you!
You not only get a charger, but you also get a variety of covers for your Kindle device. You can also choose to include a charging dock if you like.
What Charger Does Kindle Use?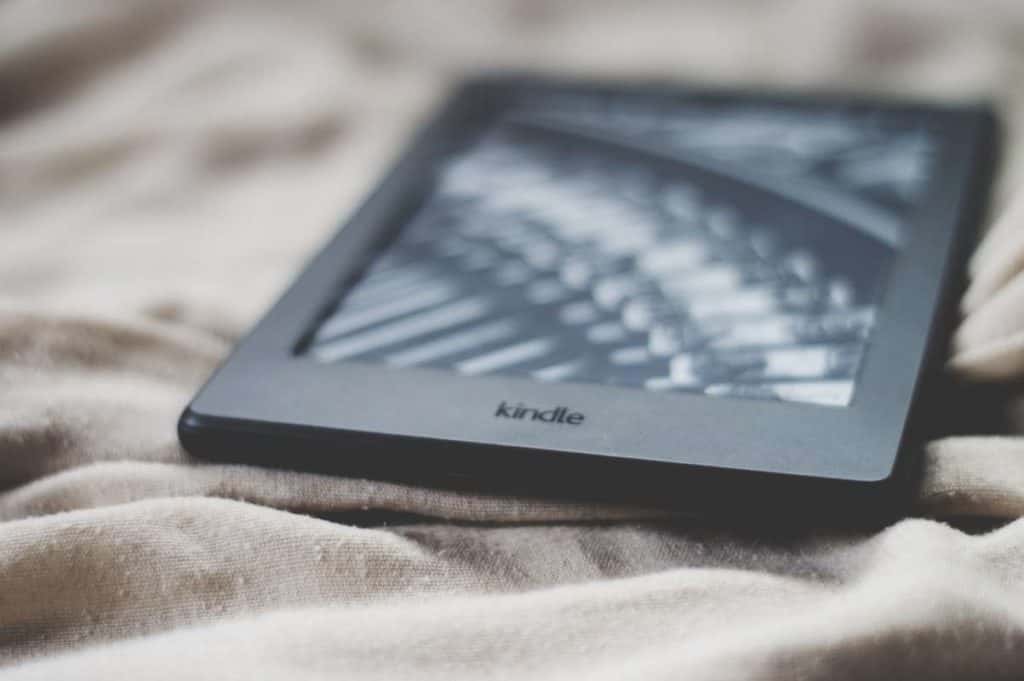 If you have already purchased your Kindle device, the Kindle essentials bundle will not be helpful. In such a scenario, you will need to purchase a charger separately for your Kindle device.
However, the most important question that you may have is what charger does the Kindle use? Which charger to buy?
The best charger option for your Kindle device is the Amazon 5W USB Official OEM charger. This product is the official Amazon charger designed specifically for Amazon products including Kindle devices.
If you want to buy a power adaptor for your Kindle Fire Tablet (in case you've misplaced the one that came in the box), I'd recommend going for the Amazon 9W USB Official OEM Charger.
This charger comes with a 9W capacity and 1.8A powerhead which will shorten the charging time for your Kindle Fire Tablets.
You can use the 5W charger instead of the 9W too, just that it will take longer to charge your Kindle Fire Tablets. However, make sure that you don't purchase the 9W charger for your 5W devices. This can damage the battery of your Kindle device!
Related Articles – 8 Reasons Why Kindles Take Too Long to Charge! [And How to Fix It!]
Both these Official Amazon chargers don't come with a USB charging cable. If you want to purchase a USB cable as well, I'd recommend going with either the Official Amazon Micro-USB charging cable for Kindles with USB 2.0 ports or this Nylon-Braided Type C cable for Kindles with USB C port.
If you are unsure of which charging cable is required for your Kindle device, make sure to check out my other article that provides a detailed guide on the different chargers used by Kindle devices!
Do All Kindles Use the Same Charger?
Different Kindle devices use different chargers. Most Kindle devices use a 5W charging head whereas the Kindle Fire HD 10 uses a 9W charger. Kindle devices use either the USB 2.0 or a USB Type C charging cable and can vary based on the type of Kindle used.
I've covered this topic in great detail in my other article that talks about the different chargers used by various Kindle devices. In it, I've compiled a list of all the latest Kindle devices and the type of charger used with links to recommendations on which one to buy.
Why is the Power Adaptor Not Included with Kindle?
When you receive the shipment of your favorite Kindle device, you might feel a little bummed to not see a charger inside the box! After all, how does Amazon expect us to use our Kindle without being able to charge the device!
A possible reason for not including the charger with the Kindle device is the fact that you can charge the Kindle by simply using your laptop (although it takes forever to do so), or if you use a Power Strip that also has USB ports like this one (on Amazon).
That said, not everyone prefers using these methods. And, it can be really annoying to some (including me) to know that I have to now spend extra money to buy a power adaptor separately for my Kindle!
Can You Charge Kindle With an iPhone Charger?
You can charge your Kindle device with an iPhone or an android phone charger. Make sure that your charger matches the technical specifications of the official charger. Avoid using powerful chargers that are designed for iPads or other tablets. These can ruin the battery life of your Kindle device.
Using a phone charger is another method to charge your Kindle device. Many of us have extra power adaptors lying around the house. Simply remove the cable from any of your phone chargers, and plug in the cable provided with your Kindle to charge your device.
Remember, when using your phone charger to charge your Kindle device, chances are that your Kindle can take longer to charge! To know how long should the charging process take, check out my detailed guide on how long a Kindle takes to charge!
About the Author
Akansha is a former business journalist and a seasoned communications professional. She is the founder of TheBookBuff, an avid storyteller, and a lifelong biblophile! Check out her profile page to know more about Akansha.