9 Ways Grammarly Can Improve Your Writing [Even as Beginners!]
Disclosure: This post may contain affiliate links. – meaning I may get a commission if you decide to purchase through my links, at no additional cost to you.
Having good writing skills is essential for achieving success in our professional life. Many of us hope to be good at writing. However, only some of us who don't have the necessary writing skills recognize the need to improve!
Fortunately, we can rely upon and even improve our writing skills using technology in today's modern world! Grammarly is one of the most well-known and most-effective tools that can help improve your writing!
Grammarly improves your writing by checking the correctness of your grammar, spelling, and punctuation. It improves the clarity of your sentences by making them concise. Grammarly also provides compelling vocabulary suggestions and tone detection that improve content delivery and engagement!
The best part is that your English writing skills level doesn't matter much! You can come across as a master writer even as a beginner if you use tools like Grammarly!
So, let's explore these features in detail and some of the different ways Grammarly can improve your writing.
Note – Make sure to create a FREE Grammarly Account to understand the below-mentioned features fully. It is free for life, and you don't need to pay for anything unless you want to use the premium features.
Before we begin, I would like to share a quick disclaimer. I have been using Grammarly Premium for about a year now. Therefore, the information I've shared in this article is based purely on my experience. I use the tool almost every day for writing articles, blog posts, emails, professional documents, speeches, and other forms of content.
Grammarly Features That Can Improve Your Writing Skills
Grammarly is not your traditional grammar and spell-checking app. Instead, it is an AI-powered recommendation engine equipped with the latest language processing capabilities. In simple terms, Grammarly provides customized suggestions and corrections to the text used in the sentence.
While there are several features that Grammarly is equipped with, a FREE Grammarly account comes with only the basic features. It is a great way to get started, but if you are serious about improving your writing skills, you will find the features provided in the premium plan to be the most effective!
With that said, let's look at some of the key features that will help you improve your writing!
1. Helps Improve Your Grammar
Identifying and eradicating your grammatical errors is one of the most fundamental tasks you will consider Grammarly for.
Grammarly does an excellent job of identifying various types of common grammatical errors and provides suggestions on why it is incorrect and how to fix them!
Thus, you not only get to learn the most common mistakes that you may have made in the content, but you also get to understand why it is considered an error.
I have been able to fix errors that I repeated from time to time in my writing by using Grammarly! Once I started noticing a trend in the errors, I started correcting them as I wrote the content after a while!
This has had a positive impact on my writing.
2. Recommends Spelling and Punctuation
Grammarly also recommends fixes for spelling and punctuation. As you can see in the above image, it will identify and underline all the spelling and punctuation errors in red. You can then go through each suggestion one by one, understand why it is incorrect, and fix the issue.
What's more, you can set your language preference, and Grammarly will autocorrect words and grammar based on your preference.
For instance, you are a non-native English speaking person writing an article targetted towards an American audience; you can set the language preference as "American English"! This way, Grammarly will deliver all the spellings and suggestions based on American English.
3. Clarity Focused Sentence Suggestions
Grammarly allows you to automatically rewrite hard-to-read complex sentences by providing you with suggestions on making a sentence more clear and focused!
Consider the example in the image above.
These are corrections that we usually overlook while writing or even editing our content! With Grammarly, you will make your sentences clear and focused.
With Grammarly Premium, you also get to format your content correctly, in addition to making your content focused and clear!
4. Helps Improve Conciseness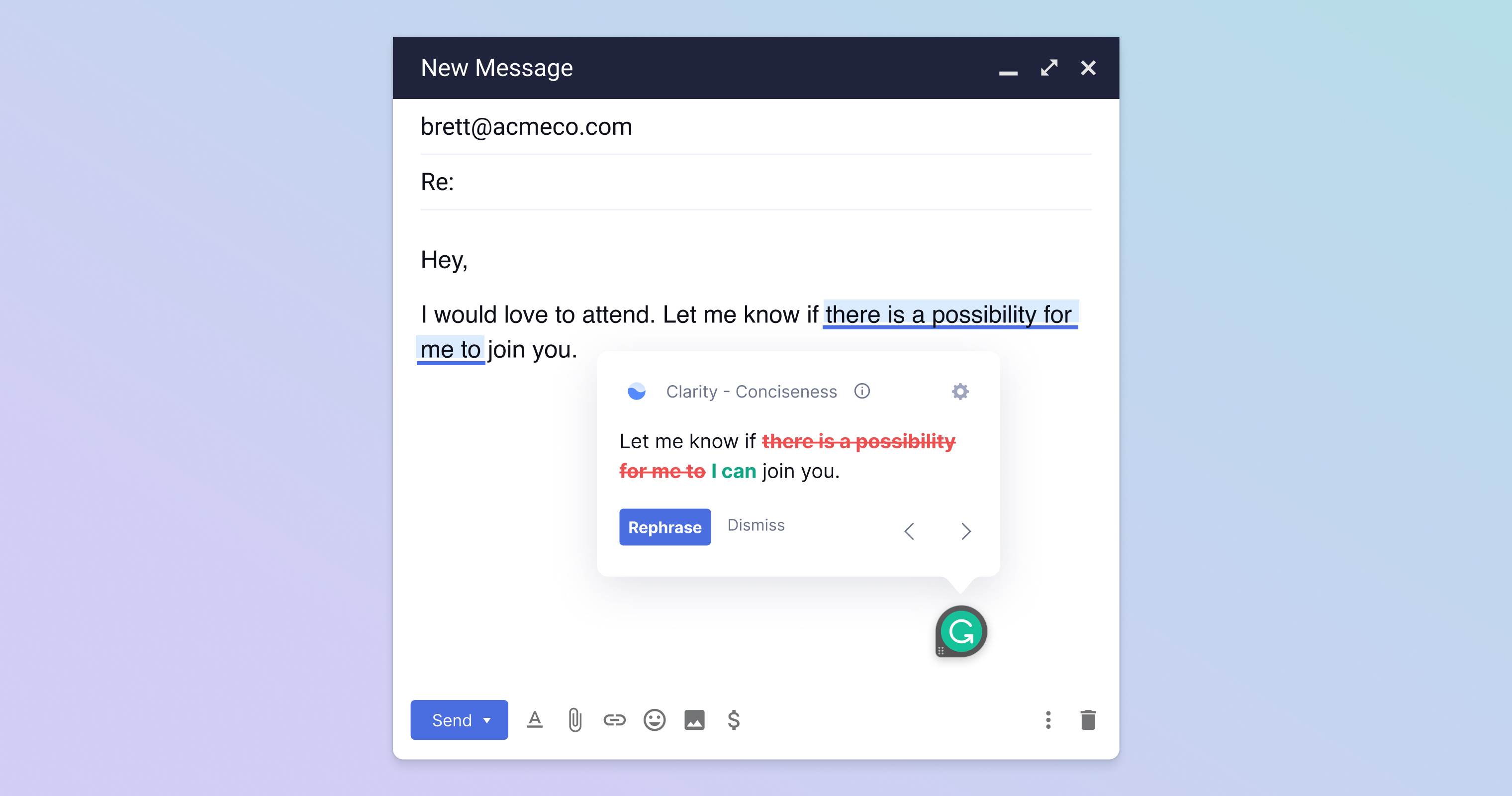 Grammarly also makes your content more concise and allows you to communicate without unnecessary words in your sentences. In addition to making your sentences clear and concise, it also makes you sound professional!
After all, who likes to see clutter, whether in your life or your content!
5. Tone Detection and Improvement
One of the really cool features that Grammarly boasts is tone detection.
With tone detection, you can make sure that your message sounds precise how you intended it. Based on the content you write, you can see the change in the tonality of your content using Grammarly.
This feature is especially significant if you are writing a thesis or a research paper as a student. You don't want to come across as casual. Likewise, if you are a business person or a working professional, using Grammarly's tone detection can be a differentiating factor between a deal coming through or falling apart!
6. Improves Confidence in Your Writing
In addition to all the benefits that I've mentioned in this article, Grammarly makes sure that you sound confident through your writing even if you may not be feeling all that confident yourself!
As you may be aware, sounding confident can positively impact your audience. Grammarly eliminates unnecessary qualifiers and converts them into a more confident tonality.
Thus, this is a great way to improve your overall writing.
7. Enhances Politeness and Formal Writing
There are times when you tend to express your emotions in the heat of the moment. However, these emotions can just as easily translate into your writing, depending on your mood!
Grammarly helps you maintain politeness by providing alternative words or phrases that reduce harshness in your writing and maintain a neutral tone.
Grammarly also suggests words or phrases that are respectful and inclusive with the current events in mind.
8. Compelling Vocabulary
Grammarly does a fantastic job of providing alternative words that can help you liven your content and messaging!
If you are unsure of a word or want to replace a word with a better alternative, all you have to do is double-click on the word, and Grammarly will provide you with vivid options!
Doing so can make your writing sound lively, avoid repetitiveness, and add flavor and variety to your content!
9. Allows You to Set Writing Goals
The last feature that I'd like to highlight is the option to set writing goals!
Using this feature, you can define your content's audience type, tone, voice, and intent, and Grammarly will provide suggestions accordingly!
You also get to see an "Overall Score" of the written content when using the Grammarly editor (premium feature). The score helps you understand the quality of the written content.
All these features, over time, help to improve your writing!
What's the Difference Between Grammarly Free and Premium?
The free version of Grammarly is a great place to start. You can quickly sign up to create a free account and start using Grammarly.
However, the free version of Grammarly only provides basic writing suggestions. It mainly helps fix basic spelling, grammar, and punctuation errors. Most of the features I've shared in this article are available only in Grammarly Premium!
On the other hand, Grammarly Premium provides a ton of additional features. To see the complete feature list of Grammarly Premium, click on this link, scroll all the way down on the page, and click on "Plans."
You can start using Grammarly Premium at just $12 per month. Of course, you can cancel your subscription anytime.
Where can Grammarly be Used?
There are several different platforms where you can leverage the power of Grammarly! Let me share with you some of the places where you can use Grammarly –
Web based platforms – Grammarly works well with several devices web-based content writing platforms including Google Docs, Gmail, WordPress and other websites. You can install the Grammarly plugin to your favorite browser (Chrome, FireFox, Safari, or Edge) and start using Grammarly!

Apps on Your Computer – Grammarly is also compatible with several apps installed on your computer including Microsoft Word! Simply install the desktop version of Grammarly and start using it with your favorite application!

Phones and Tabs – You can also install and use Grammarly on your iPhone, iPad or an Android device. This provides great flexibility to the users in using a single product such as Grammarly to fix the spelling and grammatical errors across platforms!
Who is Grammarly Most Useful for?
Grammarly is ideally suited for you if you are a student, researcher, business owner, working professional, writer, or content creator of any kind. In addition, if you are a non-native English speaker or need help to improve your writing, I would highly recommend using Grammarly!
Grammarly is free to start, easy to use, and relatively inexpensive. Furthermore, the cross-functional capabilities of Grammarly make it a must-have application if you want to improve and invest in your writing!
About the Author
Akansha is a former business journalist and a seasoned communications professional. She is the founder of TheBookBuff, an avid storyteller, and a lifelong biblophile! Check out her profile page to know more about Akansha.